Want to learn how to knit?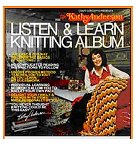 I don't know why this didn't catch on!
You can have a listen to a bit of this in
Dave's record collection
. This album is listed in the "for the kids" column, about two or three down.
Other gems in the collection include:
Music To Sell More Sparkplugs By
Tableau of a Bladder Operation
Take Care of Your Steinel Hairpiece
and my personal favourite - How to Marry Rich.